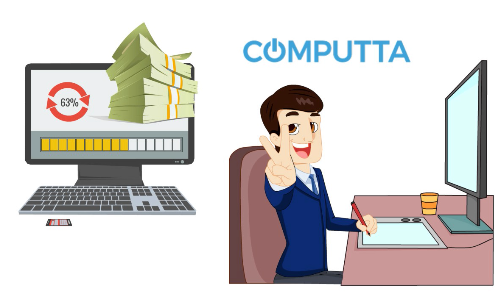 Computta.com is a first of a kind service created by cryptocurrency professionals to enable anyone and everyone's computer to make digital money for their owners.
It is the first service which provides simple two-click cryptocurrency mining application available for anyone to use on any computer. This means that ANYONE with a computer can register, download our super-simple smart mining utility and start generating cryptocurrency on their computers – all within 3 minutes flat.
You do not need any tech skills at all, besides being able to power on your computer and click your mouse ?
Computta Smart Miner and our server-side software algorithms will do everything in the background for you. Your earnings will be converted and stored in Bitcoin – the most popular and most reliable cryptocurrency. We will also use the current exchange rates to show you your earnings in USD for convenience.
AS WE SEE IT COMPUTTA MEANS: PROFITABLE COMPUTING.
100% AUTOMATIC. 100% FREE. EVERYONE'S INVITED.