Computta April Referral Contest Finished!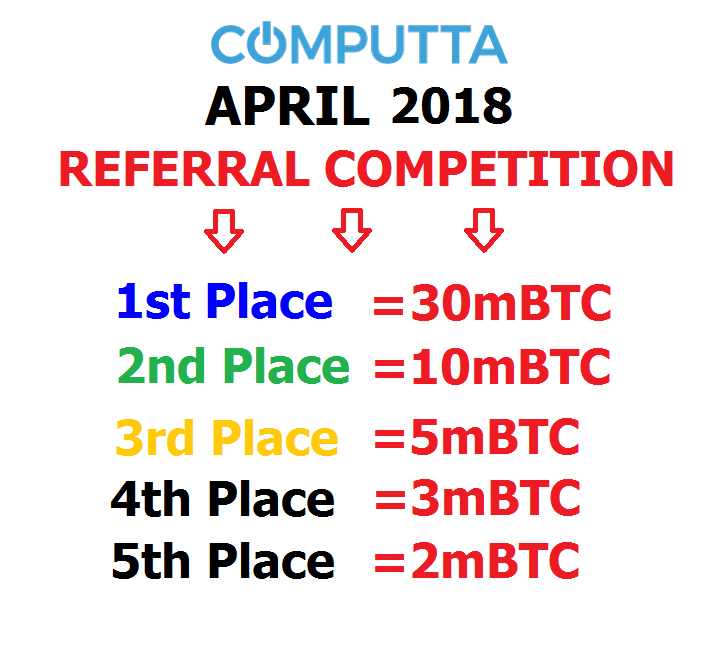 April 10, 2018 we started our new Referral Contest – Winner Gets 30mBTC (approx US$270!)!
We noticed that less than 1/4th of all users ever used their referral link. Our guess is that they either don't even know we have a super powerful 5-tier referral program or they just don't know how to use it to generate commissions. You can read more about Computta referral program here.
So we decided to run Referral Contests for our registered users to encourage everyone to invite others to Computta and earn autopilot commissions on 5 tiers for their efforts. Hopefully this will increase your awareness and your skills in using our referral program. Because it's all very simple…
One Who Gets the Most Personal Referrals Wins!
And the WINNER is…

1st

Place  serezha.makar********.ru with 308 referrals

2nd Place chinatube2********.com with 290 referrals
3rd Place sponsorsrcl********.com with 246 referrals
4th Place info********.za                     with 161 referrals
5th Place nestmail********.es            with 147 referrals
But that's not all!
Last month we also added one SPECIAL Prize category. And this time it goes to:

karasyz********.com with 105 referrals

who gets the Special Prize of 5mBTC
for the BEST QUALITY traffic and referrals! Awesone!
RULES ARE SIMPLE:
Referral Competition starts on April 10, 0-00 and ends on Aprio 30, 23-59-59
Only personal referrals generated within this period will count
One who gets the most wins!
PROMOTION RULES:
Only legal and ethical promotion methods allowed.
Absolutely NO SPAM in any form – email, social, comment etc.
You can use free and paid promotion methods however you like.
VALID REFERRALS RULES:
Your referrals must be real! Not some fake signups or paid-to-signup crap.
We WILL be checking if your referrals actually download, install and run our app.
ONLY referrals who actually run the app and earned the first minimum of 0.005mBTC ( USD $0.05) will be counted.
If we catch you getting fake/bogus/paid referrals, we WILL delete your account and BAN you from Computta, with all current balance forfeited. No negotiations!
Stick to The Rules, Play Fair!
By popular request from our users, we will be posting TOP 20 affiliate list here on this post every weekend. So check back and see if you are in the Top 20 and how much you need to push to grab one of those Top 5 spots.
So let's roll and good luck!
========== FINAL TOP 20 April 10-30 ==========
serezha.makar********.ru 308
chinatube2********.com 290
sponsorsrcl********.com 246
info@advert********.za 161
nestmail********.es 147
abdalkin13********.com 134
xiconzi********.com 132
vip.minin********.ru 115
karasyz********.com 105
karali_3********.com 103
cwaters8********.com 93
leha.pal********.ru 90
R3903708977********.ru 88
sseerrggee********.com 81
boloten********.ru 76
lucian.pips********.com 73
tch-vital*******.ru 71
kabak-197********.ru 67
boychuk.serg********.ru 66
aleksandrusan********.com 59